A Monterey Culinary Experience Like No Other
Make A Reservation
Coastal Kitchen is currently serving our five course tasting menu. Kindly make a note when reserving to detail any dietary restrictions.
Press
Monterey Plaza Hotel is a Dining and Spa Destination
"Offering unparalleled gastronomic experiences and imaginative wine pairings within a serene dining room overlooking the bay, Coastal Kitchen features creative and artfully plated dishes."
Indulge in Winter's Guilty Pleasures
"Executive Chef Michael Rotondo isn't holding back on the opportunity to explore this creative endeavor."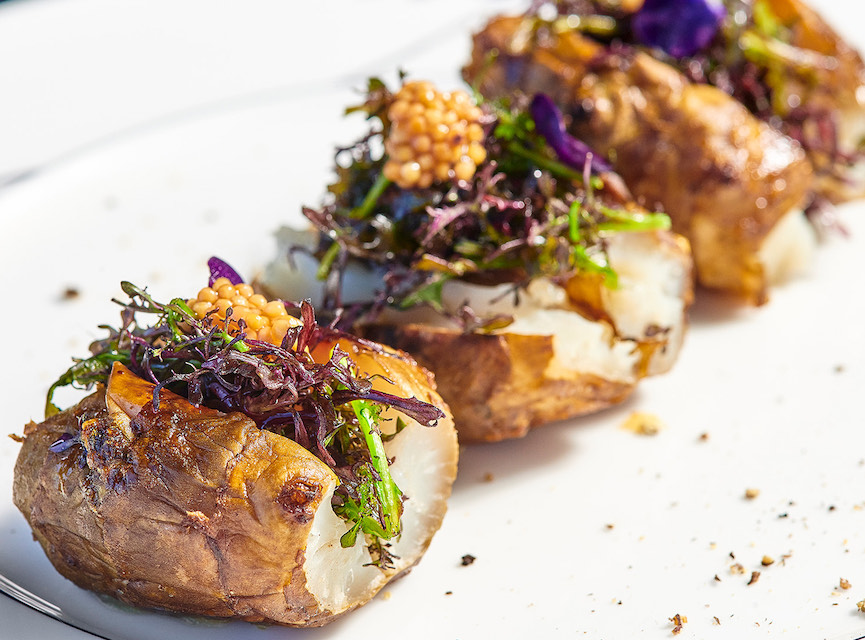 Book The Chef's Tasting Menu And Wine Pairing At Coastal Kitchen
"Each course arrives with careful attention to both beauty and taste, inviting the diner to mindfully experience the dishes as an artful exploration of local ingredients and a playful homage to the seasons."
Bringing A Fresh Palate & Perspective To Monterey Bay
"The chef's plating and styling of ingredients are works of art themselves, seemingly too beautiful to disturb, but the temptation of the tastes override with delicious results."
Monterey County Weekly
"Rotondo builds the menu as movements flowing from a vegetable treat to a genteel appetizer, fish and pasta toward Wagyu beef with toasted rice and charred cabbage on one recent night. He's not reaching for a crescendo, as each course is equally captivating."
Memorable New Tasting Menu
"Rotondo has a gift for taking something familiar and giving it new dimensions, which can and should be a goal of any chef into the gig: engage both curiosity and appetite, brain and belly, thought and plot."
Guest Reviews
"This is a fantastic addition to dining on the Monterey Peninsula. A multicourse meal with every course more scrumptious than the last. Beautifully presented in the lovely setting. The service was friendly. I didn't get the wine pairing, but the wine steward chose two glasses of wine for me that matched perfectly. This will be my first choice for a special meal."
- Mindianer on OpenTable
Guest Reviews
"Just amazing! We had such a delicious and memorable dinner here: polite and friendly service, unbelievable 5 course meal full of fresh flavors, and truly elegant and beautiful in every way. All tables have great ocean views. Each course is delivered with impeccable detail. We were blown away! Thank you for a lovely dinner. (Totally worth the money, especially if a special occasion.)"
- Brenda P. on Yelp
Guest Reviews
"The tasting menu was phenomenal. Exciting bursts of flavor. Especially enjoyed the black cod and the tortellini. Compliments to the chef for a beautifully presented unique foray in gastronomical delights."
- KarenV on OpenTable
Guest Reviews
"Absolutely incredible dinner at the reimagined Coastal Kitchen. The views are as you'd expect- beyond breathtaking and the cuisine and wine pairings were really beyond spectacularly delicious!! I could not more Highly highly recommend!!!! Plus note: I have annoying dietary restrictions and they took a special effort to make my experience as special as everyone at the table. Thank you for a very lovely evening!!"
- L.B. K. on Yelp